The Risk of Reverse Stock Splits
Risk is an important feature of every aspect of our lives. But how much risk is too much? The essential question for any investor. Well today we're going to explore low priced, high risk stocks. Specifically, those that suffer from an excess of reverse stock splits. Buyer beware!

Before the digital age, stock splits were commonly undertaken so retail investors could invest in the stock, and as such it could have liquidity. But the reason behind that was because brokerage firms would charge more for trading odd lots, or transactions of less than a hundred shares. So, companies would split their shares to make sure the price of an even lot of shares didn't grow out of the range of retail investors. Nowadays, online brokerages (Like us) charge the same commissions regardless of how many shares are purchased. Besides, stock splits normally involve expensive administration, registration, and regulatory costs that are easily avoidable.
On the flip side, reverse stock splits do the opposite, in decreasing the numbers of shares outstanding and artificially raising the price of the stock. Stocks that do this often do it to keep above mandatory minimums for stock exchanges, which don't usually allow penny stocks on their platforms, and for mutual funds that typically have such minimums for stocks to be included as well.
Stocks that perform this, in some cases, typically severely declined in value, and are usually known as very risky investments. FINRA has warned investors that, "Reverse splits tend to go hand in hand with low priced, high risk stocks,". Common examples include companies whose product has failed to pass regulatory hurdles or launch. In their struggle to stay afloat, and listed, they perform a reverse stock split such as 1-for-7 . But since most reverse splits change nothing about the financial situation for the company, many investors see it almost as a death sentence for a stock.
But it's not just those companies that suffer from this malady. Take this stock that suffered no such regulatory burdens.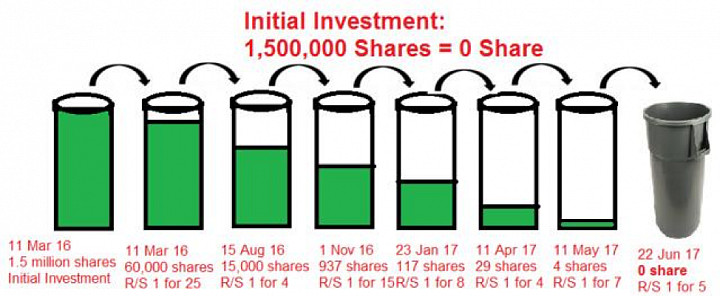 Looking at the split history of this company from start to finish, "an original position size of 1000 shares would have turned into 8.50340136054422e-05 today." This company lost 99.9% of its value in a few years.

An interesting saga with more to it than just plain business failure.
There are other, less extreme examples however. Back in 2009, a company that was on the verge of financial failure did a 1 for 20 reverse split. Despite getting bailed out, the stock remains down more than 95% from before the financial crisis.
In short, companies who do reverse stock splits from positions of weakness rarely have a reverse stock split affect their returns for the better. If it is done during a time of financial turmoil for the corporation, it is often an omen of impending failure or lack of other options. There are always exceptions, but before you invest usually it's a good idea to do some deep research on companies that are planning or have recently executed reverse stock splits.
We here at Just2Trade want our traders to be informed before they make their decisions, which is why we advise using our partner site, WhoTrades, among other resources, to keep abreast of financial news and avoid what are often high-risk low-reward situations like these. Risk management has always been and always will continue to be key to success.
Happy Trading,
The Just2Trade team
No information on this post should be considered an offer to buy or sell a particular type of security.
Just2Trade Inc is not responsible for any system downtime, performance, accuracy or other issues that may occur when using this product.
This is not an offer or solicitation in any jurisdiction where we are not advertised to do business.
The reverse split "company" was provided as an example and for information purposes only, please do your own research before deciding if investing in a particular company is right for you.