Share Your Trades Straight From Trading Platform
We're extremely excited to announce a new essential feature on Just2Trade that will change how you track trades and how you share your progress with friends and colleagues.

First, this new tool makes following how a stock is trending simple. Whether you're curious how a stock has done in the last 6 months or the last 6 hours, the intuitive timeline makes it so you can see exactly how a stock has fared. It's never been easier to dig for trends that will help you make decisions for the future.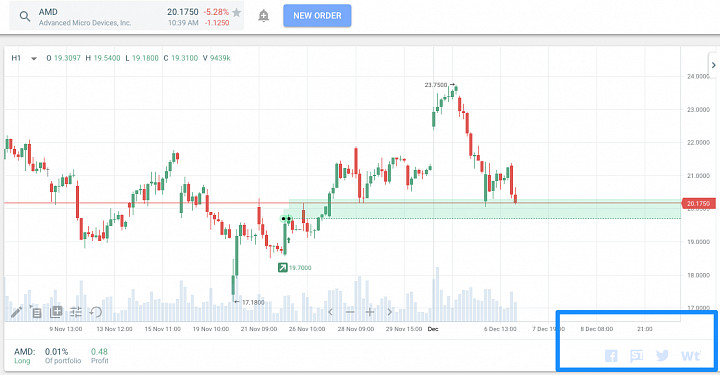 Additionally, the tool makes keeping track of profits and losses straightforward. No mental math or tracking numbers in a newspaper needed—just see if a stock is in the red or the green, and which color it's heading towards. This helps keep things clear: should I stay, or should I sell?
Once you're confident you've made the right trade, our new tool makes sharing your successes easier than ever before. In one click, you can post your trade to Facebook, Stocktwits, Twitter and WhoTrades. The best part is that it lets you pick and choose: don't want your uncle chiming in on your activity on Facebook? Post it only to WhoTrades. Feel like getting feedback from all across the web? Post to all your linked social sites.
This social feature makes broadcasting your big moments and learning from your failures that much easier.
Picture it: your trade makes a killing, outpacing expectations. You did your research, used our tool to understand where the stock was heading, and found the stock that's right for you. In sharing how your trade turned out, you can show your methods to your friends and other traders that are just as passionate as you are.
We're dedicated to making the trading experience more social. There's an unfortunate credo out there that one shouldn't talk about money. We disagree. By talking about how and why we trade, by showing our hard work, by sharing our progress, we're able to become better traders each and every day.
In constantly adding new features like this tool, Just2Trade is making trading a truly shared experience.
---
Investments involve risk, past performance does not represent future results.
No information on this post should be considered an offer to buy or sell a particular type of security.
This is not an offer or solicitation in any jurisdiction where we are not advertised to do business.
Diversification may help spread risk but does not protect in a down market.
You may lose all of your investment. Investors should consider their investment objectives and goals before investing
Use this feature at your own will and risk, Just2Trade is not responsible for any errors, omissions and downtime when using this feature